Welcome!
Your logo is your brand. It's a first impression. It makes a statement. It identifies your company and your products. It sets you apart from the competition. Research shows approximately 58% of people hang onto promotional products. 82% can recall the name of the company that gave it to them and how that product is branded. In fact, you probably have a promotional item on your desk at work or at home!
We are your one stop "shoppe" for all of your promotional needs. Planning a golf tournament or charity event? Coordinating employee recognition or a company picnic? Having a gala or wedding? Going to a trade show? We have the perfect products for every occasion. From apparel, edible gifts, and awards to pens, hats, bags, chairs, displays or any kind of give-aways, we can put your logo on it. Let our promotional items do the talking for you. We have a wide range of products for all budgets. Contact us today!
Featured Item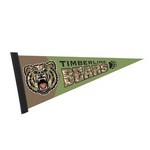 Felt Strip Pennant (8"x18") Fo...
All-New digital four color process, full-bleed imprint. A sewn-on edge strip coordinates with your imprint color & holds a pennant stick. The wooden stick can also be imprinted with a sponsor or schoo...
$2.05 - $3.75